Investor Relations
About Sleep Number Corporation
As a purpose-driven company, Sleep Number's mission is to improve lives by individualizing sleep experiences. Our revolutionary Sleep Number 360® smart beds deliver proven, quality sleep through effortless, adjustable comfort. Our integrated SleepIQ® operating system captures over 9 billion biometric data points every night and delivers actionable insights to improve your overall sleep health and wellness.

To experience proven quality sleep, visit SleepNumber.com or one of over 600 Sleep Number® stores. More information is available on our newsroom and investor relations site.
Stock Chart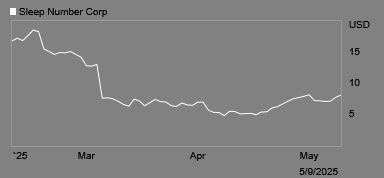 Copyright West LLC. Minimum 15 minutes delayed.
Events
Wednesday, Feb 19, 2020 at 5:00 PM EST